Other Products
Bluenergy Multi-Purpose pv-module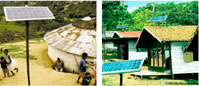 The compact integrated building method prevents application errors and in many countries the problematic "looting" of individual parts.
The commitment of Bluenergy to the development of third world countries led to the introduction of a versatile usable pv-module -suited for self-sufficient use - with integrated battery, energy-saving lamp, digital clock, world receiver radio, a mirror as well as a plug socket for small users.
In many areas of the world there is no electrical power supply, and therefore an information possibility does not exist, as it is offered for instance by radio or television. People are not able to keep up with the speed of the world. This system is a first step for the impro-vement of living conditions in disadvantaged regions of our earth and adds to training and education of the resident population.
Bluenergy Lamps
The Bluenergy solar operated street lamp is an innovative lighting system especially suited for the self-sufficient use, independent from power supply, in particular for parking lots, roads and motor-ways, camping sites and so on.
Expensive underground cables are no longer necessary.The system works automatically and causes no electrical operating cost.
Bluenergy Electro Chromatic Glass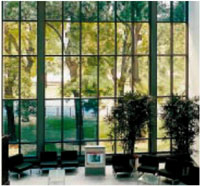 To avoid unwanted heat through the windows, Bluenergy developed electro-chromatic glass.The transparency is regulated with a dimmer, manually or automatically from 100% down to 15%.This reduces energy consumption for air-conditioning, and is the invisible alternative for blinds.