History
Bluenergy Fuerteventura, Canary Islands
Already in 1982, Bluenergy was able to present the first bungalow in Fuerteventura, Canary Islands, which was completely supplied with solar energy (at that time under the company name BMC). This project drew a lot of attention, especially on political levels.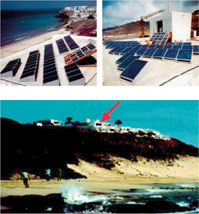 Bluenergy Casa Solar - Almunecar, Spain
Another first followed in 1986 with a solar self-sufficient bungalow in Almunecar, Spain, following the 100 % ADS/RES concept of Bluenergy.
Power supply through pv-modules, energy storage with batteries, and water supply with groundwater.Wastewater was biologically purified and used again for underground irrigation.
It is planned to build a complete solar self-sufficient residential area long-term.